◆
◆
◆
Denmark funds new Power-to-X flagship projects
丹麦资助新的Power-to-X旗舰项目
Renewable energyand offshore wind in particular can reduce CO2 emissions substantially. However,this also requires technologies that allow us to utilise renewable energy in amore optimal way.Denmark is investing in theenergy storage and sector coupling technologies of the future.To this end, the Danish government hasallocated EUR 17.1 million to support the development of renewable energystorage and conversion technologies – so-called Power-to-X (PtX) technologies.Two large-scale, flagship projects that will be ableto contribute to the development of green fuels have received EUR 10.7 millionand EUR 6.4 million respectively.Which will allow us to use greenpower as fuel for busses, airplanes and ships in the future.
Power-to-X (PtX) is a collective term fortechnologies in which electricity production via typical electrolysis isconverted into hydrogen, synthetic gases, fuels or chemicals. Bothof the two Danish PtX projects that have received funding are concerned withthe conversion of electricity into hydrogen. The projects are intended toaccelerate the technological development of Power-to-X and identify centralconditions necessary to expand the use of PtX technologies in the Danish energysystem in order to increase the flexibility of the system and its ability toadapt to a growing amount of energy from fluctuating renewable sources such aswind and solar power.
Furthermore, the twoprojects will operate on terms that are close to market conditions. In thisway, they can highlight which market and regulatory barriers exist that arepreventing the further development of Power-to-X in Denmark. The goal is thatboth projects will be able to operate on market conditions after the fundingceases.
可再生能源和海上风电可以大幅减少二氧化碳排放。当然,这也需要我们以更优化的技术利用可再生能源。为此,丹麦正在投资未来能源储存和耦合技术。丹麦政府已拨款1710万欧元,用于支持可再生能源储存和转换技术的发展,即电力转换技术。
两个大型旗舰项目分别获得1070万欧元和640万欧元资助,这将有助于绿色燃料的发展,也将使丹麦能够在未来使用绿色能源作为公共汽车、飞机和轮船的燃料。
PtX技术是一个集合技术,指通过传统电解产生的电能转化为氢、合成气、燃料或化学品的技术。丹麦两个电能转化为氢有关的PtX项目都获得了资金支持。这些项目旨在推动能量转化技术开发,并巩固丹麦能源系统中扩大使用PtX技术所必需的核心条件,增加系统的灵活性,提高其适应来自波动性可再生能源(如风能和风能)日益增长的需求。
这两个项目将在准市场条件下运作。通过这种方式,他们可以突破阻碍丹麦PtX项目进一步发展的市场和监管障碍,以期这两个项目在资金停止后都能在市场环境下继续运行。
1、
GreenLab SkivePower-to-X
project
绿色实验室Skive Power-to-X 项目
The purpose of the project is to establish acommercial, large-scale facility for the production and storage of greenhydrogen, which is partly processed into methanol for use in the transportsector and partly used directly as a green, zero-emission fuel for heavytransport.
The core of the plant is a'hydrogen factory' based on a 12 MWel electrolysis plant with a 1.6 MWh batterystorage and associated internal infrastructure. The electrolysis plant ispowered by green electricity from a local, soon to be established 75 MWrenewable energy park (wind turbines and solar power).
该项目目标是建立一个用于生产和储存绿色氢能的商业化大型设施,其中一部分加工成甲醇用于运输部门,另一部分直接用作重型运输的绿色零排放燃料。
该工厂的核心是一个"氢工厂",以一个12兆瓦电解工厂为基础,拥有1.6兆瓦时的电池存储和相关的内部基础设施。电解厂由当地一家即将建成的75兆瓦可再生能源公园(风力涡轮机和太阳能)提供绿色电力。
2、
HySynergy
HySynergy
项目
The purpose of the projectis to establish the first phase of a large-scale facility for the productionand storage of green hydrogen. This will support very significant CO2reductions in the production of the existing liquid fuels from the Shellrefinery in Fredericia, Denmark. At the same time, it can establish acompetitive green hydrogen supply as a zero-emission fuel for heavy transport.
The core of the plant is a'hydrogen factory' based on a 20 MWel electrolysis plant and with a 500 MWhhydrogen storage facility and associated internal infrastructure. Theelectrolysis plant is powered by certified green electricity, while the producedhydrogen is sold on an industrial basis and partly for heavy transport via amobile, high-pressure hydrogen storage facility. In addition, side streams,such as the oxygen produced from the electrolysis, are utilised for industrialpurposes and the excess heat is allocated to district heating.
Much ofthe financing for the HySynergy project is conditional on the partners securingsubsidies through the Danish Energy Agency's energy storage pool, for which thetwo companies applied last month. Moreover, another portion of the capitalcomes from the approximately DKK 8 million that Everfuel received last monthfrom another pool for its project H2Bus Europe, whose goal is launch 600hydrogen-powered buses in Denmark, Latvia and the UK – a project that also floatsbecause of public aid from, among others, the EU's CET fund.
该项目目标的第一阶段是建立一个生产和储存绿色氢的大型设施。这将有助于在丹麦弗雷德里夏壳牌炼油厂现有液体燃料的生产中大幅减少二氧化碳排放。同时,它可以建立一个有竞争力的绿色氢能供应,作为重型运输的零排放燃料。
该工厂的核心是一个以20兆瓦电解工厂为基础的"氢气工厂",拥有500兆瓦小时的储氢设施和相关的内部基础设施。电解厂由经过认证的绿色电力提供动力,而生产的氢气在工业基础上出售,部分用于通过移动式高压储氢设施进行重型运输。此外,副产能源,如电解产生的氧气,用于工业用途,多余的热量被分配给区域供暖。
HySynergy项目的大部分融资补贴来源于合作伙伴通过丹麦能源署(Danish Energy Agency)的储能池计划(Energy storage pool),这两家公司上个月申请了这项补贴。此外,另一部分资金来自Everfuel上个月从另一个项目H2Bus Europe获得的约800万丹麦克朗,该项目的目标是在丹麦、拉脱维亚和英国推出600辆氢动力公交车,该项目也因欧盟CET基金等机构的公共援助而持续推进。
◆
◆
◆
Shell to buildEurope's largest green hydrogen plant in Denmark
    壳牌将在丹麦建造欧洲最大的绿色氢工厂
A partnershipbetween Everfuel and oil and gas supermajor Shell is planning a gigawatt-ratedP2X plant at a refinery in Fredericia, Denmark.
In a fewyears, Denmark might end up hosting Europe's largest green hydrogen plant intown of Fredericia in the western part of the country. Danish company Everfuelhas entered a strategic cooperation with, among others, Shell Danmark toestablish a P2X plant for an approximate cost of DKK 150 million (EUR 20million) on-site at an existing oil refinery in Fredericia. The first phasewill entail installing an electrolysis plant with a capacity of 20 MW as earlyas 2022-'23 – but the partners eventually aim to expand the facility up to 1GW.
"Ourambition is very clear. We want to make hydrogen a competitive green fuel, andwe want to do so as quickly as possible," says Everfuel Chief ExecutiveJacob Krogsgaard.
氢基础设施开发商Everfuel和壳牌石油天然气超级巨头计划在丹麦弗雷德里夏的一家炼油厂建造一座额定功率为千兆瓦的P2X工厂。
再过几年,丹麦可能会在该国西部的弗雷德里夏镇(Fredericia)拥有欧洲最大的绿色氢气工厂。丹麦Everfuel公司已与壳牌丹麦公司(Shell Danmark)达成战略合作,在弗雷德里夏现有炼油厂建立一座P2X工厂,成本约为1.5亿丹麦克朗(2000万欧元)。第一阶段将需要在2022年至2023年安装一个容量为20兆瓦的电解厂,最终的目标是将该工厂扩大到1吉瓦。
"我们的雄心非常明确。Everfuel首席执行官雅各布•克罗格斯加德(Jacob Krogsgaard)表示:"我们希望使氢成为一种具有竞争力的绿色燃料,我们希望尽快做到这一点。"。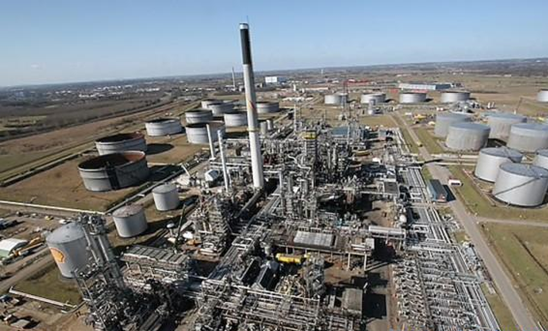 位于弗雷德里希亚港的壳牌炼油厂于1966年投产,每年可提炼340万吨原油。根据丹麦石油公司的数据,这家炼油厂提炼了丹麦35%的化石燃料。该公司已经与Everfuel达成战略合作,现场建立一个绿色氢工厂。
资料来源:丹麦能源集群(House of Energy)